DR. WAYNE HUNTHAUSEN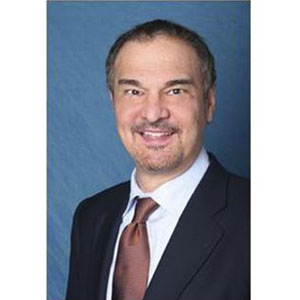 Wayne Hunthausen is a veterinarian and pet behavior consultant who has been working with pet owners and veterinarians throughout North America to solve companion animal behavior problems since 1982. He is the director of Animal Behavior Consultations in the Kansas City area, which provides behavior consultations and training services for pet owners, as well as a behavior support service for veterinarians. In his spare time, he is an avid photographer and enjoys writing, snooker, cycling, movies and traveling with his wife, Jan Kyle, as well as hiking with their dog, Parker. See Dr. Hunthausen's full bio and CV.
BRENNA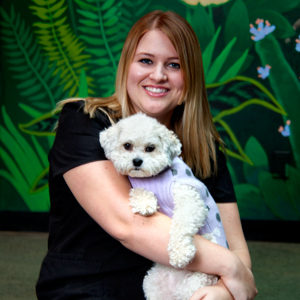 Brenna has been caring for the dogs and cats at Westwood Animal Hospital since July of 2016. Before joining our team, she was active doing volunteer work at Wayside Waifs, and has had experience working as kennel caregiver in the past. In her free time, she enjoys crafting, painting, and spending time with her boyfriend and family. Brenna is passionate about working with animals, and is studying to obtain her veterinary technician degree.
JASDEL

Jasdel joined Westwood Animal Hospital in December of 2015. She grew up in Puerto Rico and after moving the United States, studied English at Kansas City, KS Community College. Jasdel has two dogs and three cats at home, all rescued from the street. In her spare time, she is an avid volleyball player and teaches Spanish to elementary school students in Olathe.
DR. SCOTT BEYER

Scott Beyer graduated with his degree in veterinary medicine from Kansas State University in 1987. We are fortunate to have a veterinarian with his experience in our practice. He has been a member of our team at Westwood Animal Hospital since 1997. He and his wife Michele share their home with two Ragdoll cats, Rocky and Kashmir, and two terriers, Nutmeg and Stella. Dr. Beyer is an active outdoorsman, and likes to hunt and fish on his days off. He also enjoys amateur radio.
KAITLYN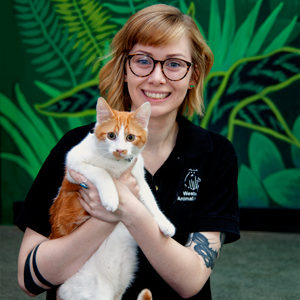 Information on Kaitlyn coming soon!
MARY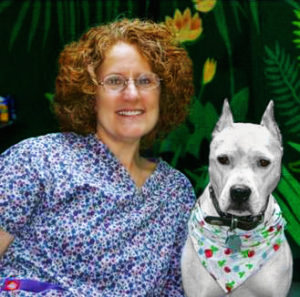 Mary Kline has been a professional veterinary technician for nearly four decades. She has been working side-by-side with Dr. Hunthausen since 1994. She graduated from the Maple Woods Veterinary Technician Program in 1981, and has been helping care for companion animals ever since. Mary is certified as a Professional Dog Trainer and as an Evaluator for the Canine Good Citizen certification program. She teaches basic, advanced, and Canine Good Citizen classes here at Westwood Animal Hospital. Mary shares her home with four dogs, two cats, and a parrot named Baby. Outside of the hospital, Mary likes to garden, recycle, and spend time with her grandchildren.
EMILY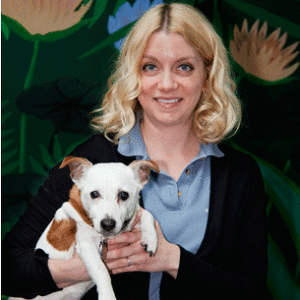 As Office Manager, Emily has the important roll of keeping everything running smooth at our busy hospital. She joined Westwood Animal Hospital in 2005 following four years working in the adoption department at Wayside Waifs. Emily shares her home in historic Valentine with Pip, a spunky 15 year old Jack Russell Terrier, Napoleon, a sweet, toothless orange tabby, and Verses, a lovable grey kitty who loves to snuggle. When she's off the clock, Emily likes to babysit, collect mid-century modern antiques, experiment with vegetarian and vegan cooking, and attend art shows.
KENDRA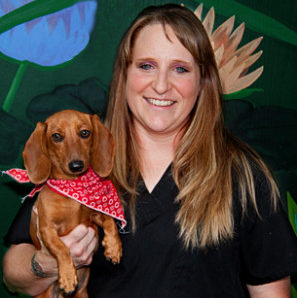 Kendra Sexson started working as a kennel attendant at Westwood Animal Hospital in 2013. She holds a bachelor's degree in science in sociology, and is currently working towards a master's degree in management and leadership. Kendra has three dogs, Sebastian the dachshund, Autumn the Shar Pei, and Lady the Pitbull. Also, Marley the cat and Huey the bearded dragon. Her free time is filled with studying and spending time with her two sons, ages 8 & 7. She loves to be outdoors, especially in the fall.